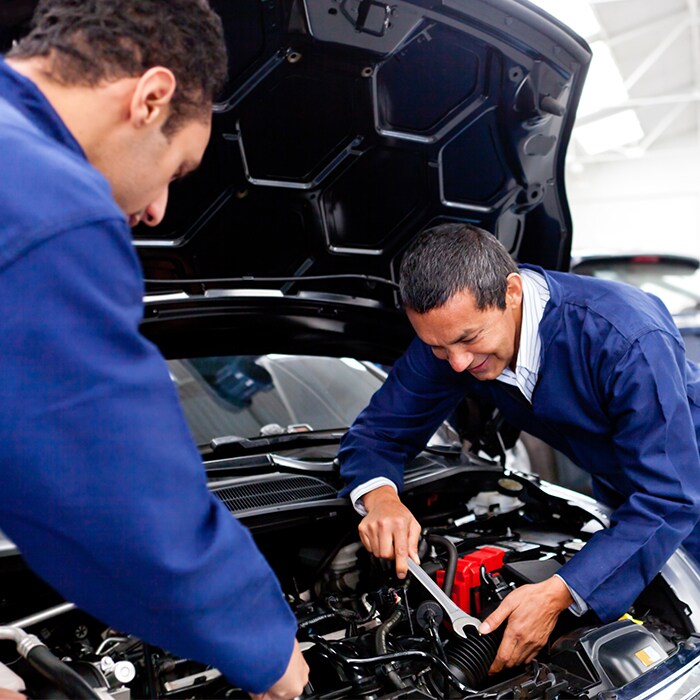 Car Repair Hours
Monday

7:00am - 5:00pm

Tuesday

7:00am - 5:00pm

Wednesday

7:00am - 5:00pm

Thursday

7:00am - 5:00pm

Friday

7:00am - 5:00pm

Saturday

7:00am - 12:00pm

Sunday

Closed
See your Family Subaru Mechanics at Charlie's Subaru for Car Repairs in Augusta, Maine
The family-owned Charlie's Subaru dealership has been in business for over three decades. You don't get to be a part of this great community for that long without providing excellent customer service. A large part of why so many families trust us with their Subaru repairs and maintenance is that to us, our customers are family--so our certified Subaru automotive technicians and the hard-working team at Charlie's Collision Center treat each and every car that rolls into the garage as if it were one of our own. Charlie's is a name you can trust. Thank you for supporting us for over thirty years. We hope to see you for thirty more--at least!
Is your Subaru due for a little routine maintenance? The Charlie's Service Team is fully equipped to keep your Subaru factory-spec for tens of years and hundreds of thousands of miles. We can handle just about anything, including:
Brake Service and Replacement. Brakes make the difference between a short stop and an accident. Brake maintenance is a vital Subaru service. Hear any squealing or whining while braking, or does your Subaru vibrate when stopping? Bring it in right away! Our service team will take care of it for you, so you never have to worry.
Radiator and Coolant System Service. Your car's radiator keeps you running down on the road. If you have a coolant leak or bad radiator, your engine and other vital vehicle components are at serious risk. If you see a greenish puddle under your car, smell something sweet when you turn on the heater, your windshield fogs up, or your Subaru runs hot, you may need water pump, radiator, or heater core service.
Climate Control Service and A/C Repairs. If you hear noises coming from your vents, don't feel much airflow coming through the vents, or your air conditioning isn't cooling as quickly or as efficiently as it used to, your A/C system likely needs maintenance. Let us straighten it out and get you out of the heat.
Electrical Component Repairs. If your battery is dying quickly, your lights don't work correctly, or you notice any other odd electrical issues, bring in your Subaru for a checkup. We'll inspect your vehicle's electrical system to make sure your Subaru electronics, wiring, and computer are all in good repair.
Transmission Repair Service. Have you noticed rough shifting from your transmission, had trouble putting your Subaru into gear, or feel like your clutch isn't quite grabbing like it used to? Let our team handle it. We can rebuild, replace, or service your manual transmission, automatic transmission, or Continuously Variable Transmission.
Fuel System Repairs. If your Subaru cuts out suddenly, has trouble starting, idles roughly, or is burning more fuel than normal, you probably need

fuel system repairs

. Our team will get it straightened out and have you back on the road soon.
Collision Repair. Does your Subaru have some parking lot rash, fender-bender damage, or other body damage? Bring it into Charlie's body shop--we'll take out any dings, dents, scratches, and other damage and have your Subaru looking factory fresh in no time.