The 2021 Subaru Love Promise Customer and Community Commitment Award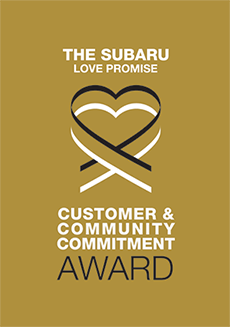 We've been nationally recognized for our dedication to our customers, our community, and the Subaru Love Promise.
We're honored to receive the 2021 Subaru Love Promise Customer and Community Commitment Award. This award nationally recognizes elite Subaru retailers who provide an exceptional customer experience at every interaction with Subaru. These retailers have also demonstrated an outstanding commitment to supporting passions and causes in their local communities in important areas such as the environment, community, health, education, and pets.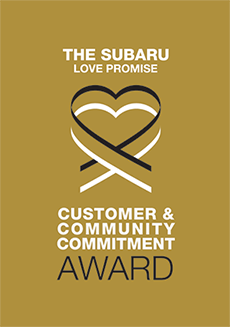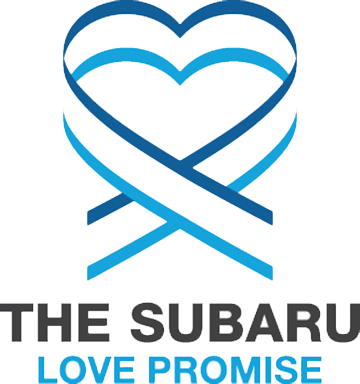 What is the Subaru Love Promise?
Subaru and our retailers believe in making the world a better place and the Subaru Love Promise is our vision of respecting all people. This is our commitment to show love and respect to our customers and to work to make a positive impact in the world.
How is Charlie's Subaru dedicated locally to the Love Promise?
Our Love Promise can be seen in various partnerships with local charities and non-profits. We're grateful for the opportunity, not only to be a part of our community, but to serve it as well.
Kennebec Valley Humane Society, Androscoggin Humane Society, Maine Audubon Society
Cony High School, Winthrop High School, Messalonskee High School, University of Maine, Gardiner High School
United Way, Augusta Rotary , Big Brothers Big Sisters, YMCA, Maine State Golf Association
Maine General Medical Ctr, American Lung Association, Maine Breast Cancer Coalition, American Heart Association, National MS Society
Love Promise Stories from Charlie's Subaru
Subaru and Charlie's Subaru believe in making a positive impact on the communities in which we live and work. We uphold that belief through our Love Promise Community Commitment. Every month, we select inspiring stories from customers and partners from around our area who strive to support our collective commitment and feature them here
Helping feed the greater Augusta Area! - Steve S
Charlie's Subaru has always been very involved in the community and for the month of March to align with the Subaru of America's "Feed America" program, we decided to help feed Augusta. We decided to have a food drive to benefit the Augusta Food Bank which services hundreds of local families regularly. Through the hard work and dedication of our staff and amazing customers we were able to collect over 2,000 pounds of food strictly through donations! This was our first time doing something of this nature, as a direct collection and donation but based on the response from customers, staff and the Augusta Food Bank we will doing this again!
---
Above and Beyond - Amanda N
Each time I've bought a Subaru from Charlie's in Augusta, ME their team has gone above and beyond to ensure that all my questions are answered and that I'm both happy with the new car and feeling confident about driving it. This is no small feat! I admittedly have a lot of questions. While I like the idea of much of the new technology in vehicles today, I can become overwhelmed by all the different features. The staff at Charlie's spent hours going through everything with me and setting everything up. I truly feel like the car is customized just for me now! The service department has also always gone above and beyond to make sure that any issues are resolved quickly and completely. They listen carefully, ask thoughtful questions, and then get right to work. With my first Subaru, the remote car starter just did not work well — but they couldn't reproduce the problem. I brought them a video to show them what happened, they did research, and ultimately ended up putting in a larger battery free of charge. That creative move solved the problem! They kept me in the loop the whole way through - patiently explaining their process. They also go above and beyond to make sure I feel confident about the cars I drive. As a side note: they even hire shuttle drivers who are very reliable/on time, get to know you and are quite friendly so that it's easy to leave your car with them for the day! It's all excellent customer service - driven by a commitment to effective communication and making sure the customer is both happy and confident about the car they drive. Beyond me, I am aware that the Shuman family goes above and beyond to support all sorts of organizations in Central Maine. Some people simply have projects they are passionate about, but the Charlie's family seems to be passionate about supporting the whole community. I think I've seen their logo for support on everything from the local humane society (I think when I bought my most recent car, they were donations $100 to the animal shelter for every car sold ) to the local hospital (which offers classes designed to give everyone the tools to become healthy... guided hikes, cooking classes, yoga, meditation, etc — all at low or no cost), to colleges and universities that serve Maine kids (direct donations or sponsoring things like a car giveaway and participation at golf tournaments to help bring in even more donors — and as a side note, Charlie himself comes to these events to show support)... I'm sure they do even more — all above and beyond just simple charitable giving to show that they want to support the community — the whole community. While I think the cost of the Subaru I got this past time was significantly more than I would have paid at other dealerships, no one else was willing to spend this much time helping me through the sales and service pieces — and no one else does as much for the local community. They truly do go above and beyond across the board and I hope you'll consider recognizing them for this! Maybe doing so would inspire other retailers to do the same — which will just grow the overall impact they have even more!
---
Charlie's and the Childrens Center of Augusta - Steve S
The Charlie's Family of Dealerships is proud to announce that they are going to be a major contributor to the upcoming Children's Center project in Augusta. The plan is to renovate the current facility and add a large addition to help keep up with the growing demand of the phenomenal services offered to children at the center. The center offers help in assistance to children of all needs and abilities. The center allows these children who have various levels of disabilities to get the care and services they so greatly need in their lives. Without the center, many of these children would not have the means to get these services. Charlie, his wife Nancy, and the Entire Shuman family have been strong supporters of the center for years. When they found out about the long waiting list of students that have not been able to get into the center and take advantage of their services they realized that something had to be done. It was at this time that Charlie's decided to give a donation in the amount of $750,000 to get the project going.
---
Charlie's Subaru and The Nancy Shuman Shelter - Steve S
For the past 34 years, Charlie and Nancy Shuman as well as the entire Charlie's Subaru organization have been huge supporters of many local animal shelters and humane societies because of their tremendous love of animals of all kinds. Charlie's wife Nancy has been especially compassionate about this effort to help the animals and has given hundreds of hours of volunteer time to help out the animals. She and Charlie have always said that "We need to help out those who can not speak for themselves." Charlie, Nancy, and the rest of the Shuman family, as well as countless employees, have recognized the need for a new, state of the art animal shelter for some time. It was last year when Charlie's decided to step up big time for the cause that so many in the family and company feel so passionate about. Charlie has recently made a commitment to help fund the new project in the amount of $1,500,000 to $2,000,000! This commitment will hopefully help to speed up the process in erecting the new facility very soon, as Charlie and Nancy are very much aware of how important this new facility is for the animals. The entire Shuman Family as well as the Charlie's organization got some very exciting news a few weeks ago....the new shelter is going to be named The Nancy Shuman Animal shelter!!! Nancy and Charlie were in tears when they heard this exciting news!!! Since Charlie opened up his Subaru store in 1986, he always said to himself that if that his success allowed it, he would love to build a safe loving environment for all animals, and the dream shared by him and his wife Nancy has now become a reality.
---
Charlie's and the Alfond Center For Cancer Care - Steve S
Every year Charlie's Subaru along with the rest of the Charlie's Family of Dealerships participates in the "Pink Pate Initiative" to help raise funds for the Harold Alfond Center for Cancer Care at Maine General in Augusta. Charlie's Subaru and the other Charlie's retailers donate $50 for every new vehicle sold for the month of October. This October Charlie's was able to donate $30,000 to the center, bringing the 5 year total close to $125,000. In conjunction with the dealership based fundraiser, Charlie's also is the major sponsor for the Maine General's "Walk for Hope." This walk in Augusta in October brings together fundraisers, people dealing and battling cancer, and cancer survivors to help raise funds and awareness for the center. This event has grown substantially over the past few years, and Charlie's is happy to be the major sponsor for this disease that has touched so many of us. Charlie and his family got to see firsthand how unbelievably great the center, its doctors, nurses, employees, and volunteers are when Charlie's wife ,Nancy, was diagnosed with breast cancer about 4 years ago. Nancy battled through chemotherapy and radiation with the help of this great organization and staff and thankfully she is now been cancer free for years. Cancer is a terrible disease that unfortunately seems to touch or affect us all in some way, shape, or form. Charlie's is so very happy to be able to help this great organization trying to knock out this terrible disease, and will continue to do so for years to come.
---
Winthrop Loves Science! - Janet B
What an incredible experience! Not only did Charlie's Subaru donate 150 science books to our middle school, but Stephen Shuman hand delivered them himself!! Mr. Shuman came to our school during a school wide assembly and spoke to our staff and student body about the wonderful programs that Subaru Family of dearlerships provide. He presented us with beautiful, mostly hardbound, library quality science books. Myself, as the librarian, and our science teachers are absolutely thrilled with this addition to our library and classrooms, and our students are so excited to use these books in class. Books such as these, with beautiful full color illustrations make science more engaging and fun. Thank you so much to Charlie's Subaru for this opportunity, your generosity will be felt for years and years to come.
---
Charlie's and The Trek Across Maine - Steve S
Charlie's is proud once again this year to be the presenting sponsor for the American Lung Association's 35th annual Trek Across Maine cycling event. This event was held June 14th to the 16th in Brunswick and had nearly $2,000 cyclists from all over New England and beyond. This event this year helped to raise almost $1,400,000 for lung health,treatment, and research as well as educating people of all ages to the dangers of smoking and vaping.
---
Survivor - Kelly F
Subaru supporting the Leukemia and Lymphoma Society means a great deal to me. I am a leukemia survivor, because of the research that has been done in the past several years to find new methods of treating different strains of leukemia. I was diagnosed with acute lymphoblastic leukemia in December of 2017. ALL is a child's disease--there's a 95% cure rate for children, but only 40 to 60% for adults. I was extremely fortunate--I had wonderful medical teams in New Hampshire, Maine and Massachusetts. After 5 rounds of chemo, I went into remission, and had my stem cell transplant on June 8, 2018. There was not an exact match for me, so my transplant doctor performed what is called a mismatch transplant. I did so well that I was able to return to my life and career as a high school teacher last November. I just celebrated the first year anniversary of my transplant, and everything is looking very positive. Without the research that is being done, I would not be alive today. One day after I was diagnosed, I was told that without treatment, I only had three weeks to live. That was sobering. I am so grateful to Subaru and to all organizations that support the Leukemia and Lymphoma Society--the gift of life is a real one. Believe me, I know.
---
CHARLIE'S PINK PLATE INITIATIVE - Steve S
Charlie's teamed up with the Alfond Center for Cancer Care at Maine general hospital in October to help raise money for the cancer center in Augusta. Charlie's donated a portion of all sales for the month to the center. This is a cause that is near and dear to Charlie, Steve, and the rest of the owners at Charlie's Subaru as Charlie's wife (Steve's mother) was diagnosed with breast cancer a year and a half ago and underwent both Chemotherapy and radiation therapy at the center in Augusta. When it was all said and done the gang at Charlie's was able to raise $25,000 for the Alfond Center.
---
Charlie's Teams up With Maine General Hospital - Steve S
Charlie's Subaru of Augusta recently teamed up with Maine General Hospital and became the main sponsor to promote the "Walk of Hope" walking event. Walkers fund raise money for the event which helps care for current patients as well as cancer research. Charlie's wife Nancy Shuman, my mother,last year got the news that no woman ever wants to get, she was diagnosed with breast cancer. Nancy battled back courageously and in good spirits going through both chemo therapy as well as radiation therapy for many months. We are pleased to say that she is now cancer free!! Nancy's recovery has been so good that she was able to be the Grand Marshall for the walk on October 14th! The walk was a tremendous success this year breaking the record for the previous years. We had hundreds of walkers and the event raised over $145,000!!! In addition to being the major sponsor for the walk of hope, Charlie's is also donating $50 for every new car sold in his entire auto group (5 stores) to the Maine General Hospital for Cancer Care. Between the major sponsorship of the Walk for Hope and the money donated for each new car sold Charlie's will be raising in the vicinity of $25,000+ for the month of October to a cause that is very near and dear to the Shuman family and the Charlie's organization.
---