Buy a New 2019 Subaru from Charlie's Subaru in Augusta, ME - Now featuring the new Ascent, Outback, Impreza, WRX, Legacy, Forester, Crosstrek and BRZ
Local drivers come to our Maine Dealership in Augusta for many reason. Yet the complete inventory of new 2018 Subaru cars and SUVs like the Outback, Ascent, Impreza, WRX, Legacy, Forester, BRZ and Crosstrek (formerly the XV Crosstrek) is often at the top of the list. We carry or can get the exact trim level you want like the Forester 3.6r or 2.5i Premium. You can also select from packages like Starlink, Navigation, EyeSight or the All- Weather packages. You can also get a Legacy 3.6r with your choice of package options. 

Charlie's Subaru has been a local, family run business for decades as drivers from nearby South Portland, Auburn, Bangor and Portland, ME already know. Coastal drivers from Wiscasset and Rockport know us too for our welcoming style and money saving offers. Check out our regular Subaru lease offers and new car specials. 

With the help of our convenient Car Finder form, Charlie's Subaru can easily get it for you.  And remember if you want to explore ALL of your options, be sure to check out our Augusta used car inventory too.
Learn more about all of the new Subaru cars and SUVs for sale in our Maine dealership here. Let's start by discussing trim levels for some of the most popular models in both New England and our section of Maine.
Your New Car or SUV is Right Around the Corner Here in Augusta, ME -- Discover It at Charlie's Subaru!
Here in the south of Maine, there's a lot to see and do. There's scenic Casco Bay to soak up in greater Portland, just a short drive from South Portland proper, Mt. Apatite to hike in Auburn, and the City Forest to explore in Bangor. These are just the tip of the iceberg, too. You'll need a new vehicle geared for any adventure, one that can take you there and back home again dependably with all the trimmings, and not just any new model, either. That's where Charlie's Subaru comes in.
Right here in Augusta on the Kennebec River, you'll find a wide-ranging line of new Subaru vehicles prepared for every drive, to be sure, from a weekend skiing or snowboarding getaway to that upcoming, long-awaited extended Pine Tree State vacation. The latest Subaru lineup is even better than ever for a new 2019 model year, too. See for yourself!
Subaru Ascent: the family-friendly alternative to a mainstream full of new crossover options, this, the largest Subaru SUV and its flagship, isn't your everyday model, going equally big on capability, safety, technology, and most of all, accommodations for any trip.
Subaru Crosstrek: this rugged subcompact SUV began as the seemingly inconspicuous XV concept in 2011, but by 2016, it had become a favorite of orienteers the whole of Maine over looking for space-efficiency and all-wheel-drive perseverance.
Subaru Forester: in this year's compact SUV, you can look forward not only to a capable ride built using a slate of the latest components but also one that incorporates a ton of new features, remaining leading-edge when it comes to safety, comfort, convenience, and technology.
Subaru Impreza: this compact sedan and hatchback duo is both a hit with the nine-to-five commuter crowd and a top choice among seasoned travelers looking for a smartly equipped and fuel economical option to get out of the city for a while.
Subaru Legacy: a mid-size car with a dedicated following, this sedan makes for a winning combination of performance and luxury, loaded with whole-package features you'll be hard-put to find anywhere else.
Subaru Outback: our automaker's fully fledged wagon-become-modern SUV, this crossover is built to go anywhere, sporting safety and technological improvements for the latest model year as well as its hallmark great cargo space and tow ratings.
Subaru WRX: adrenalized performance and sophisticated Formula 1-inspired equipment come together in this sports sedan, a go-to among younger drivers and thrill-seekers looking for the right balance of style and charge.
But most of all, when you shop with us, you'll find an unforgettable Subaru experience on prominent display. For one, our expert sales staff will be at your service every step of the way, ready to keep you in-the-know on the newest and most popular models and features. Secondly, we make financing or leasing a new Subaru here in the Augusta area a matter of course, with a host of affordable car loan and Subaru lease options to fit your budget and the help of an on-site auto finance center to acquire the one that's best for you. You can get started down the road to ownership right here online, too, by filling out our website's application form. We'll be sure to get back to you discuss your options.
Have a question about one of the many new 2018 and 2019 Subaru models in our showcase here at 466 Western Ave? Maybe you're just planning to schedule a test drive. Either way, you're invited to contact us by phone or visit us in person here at our showroom. We're looking forward to seeing you soon!


Trim Levels and Features of the 2019 Subaru Forester
Updated with a fresh chassis and a new 2.5-liter inline-4 engine, the 2019 Forester delivers a comfortable and capable driving experience with options suited to a wide range of drivers. One of the most popular models in the compact class and perennial favorite among Subaru drivers, the latest Forester provides seating for five, an efficient engine, and a selection of features that include some of the most coveted on the market. Whether you're interested in the base model or the top-tier Touring trim, the Forester delivers a lot.
Forester
Symmetrical All-Wheel Drive
SUBARU STARLINK with Apple CarPlay/Android Auto
SUBARU EYESIGHT Driver Assistance Technology
Rearview Camera
Forester Premium
SUBARU STARLINK Safety and Security
10-way power driver's seat
4G LTE Wi-Fi Capability>
Power Rear Gate
17-inch alloy wheels
Forester Sport
Keyless Entry and Push-Button Start
SI-DRIVE engine management system
"Sport" badging with orange exterior accents
All-Weather Package
Forester Limited
Keyless Entry and Push-Button Start
All-Weather Package
Rear Cross-Traffic Alert and Blind-Spot Detection
Dual-zone automatic climate control
18-inch alloy wheels
Forester Touring
SUBARU STARLINK navigation system
DriverFocus Distraction Mitigation System
"Saddle Brown" Leather Upholsterty
10-way driver's seat with 88-way power passenger seat
Silver exterior accents
The 2019 Forester offers a lot at the standard level. Some of that's to be expected; standard all-wheel drive has long been a draw for drivers interested in a Subaru. The Forester, however, goes well beyond that with an excellent selection of standard safety technology. The Forester Sport expands on that selection with driver favorites like blind-spot detection, lane-change assist, and more. If you're interested in a driving experience that's truly well-appointed, meanwhile, the Touring trim delivers everything from exclusive leather options to a new distraction mitigation system.
Trim Levels & Features Of The 2018 Subaru Forester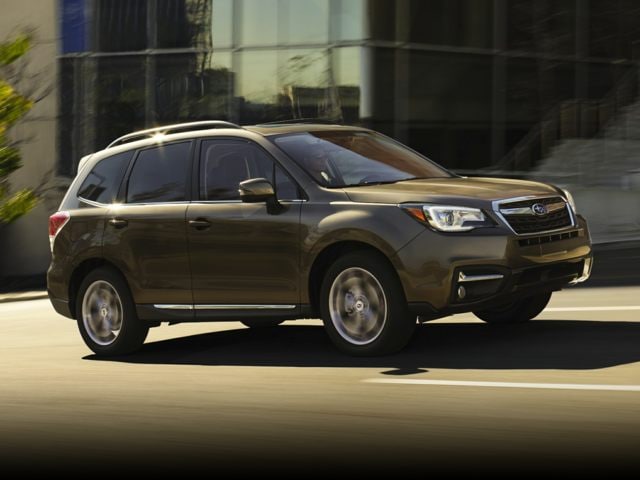 With so many reasons to love the Subaru Forester is it clear why so many Portland drivers choose the Forester. The 2018 Forester has six well equipped trim levels to choose from and while choosing the Forester was easy. Choosing which trim level may not be as easy. So to help our customers easily decide whether the Forester 2.5i Touring or 2.0XT Premium has the features they are looking for we have broken down each trim level and highlighted key standard features for each trim. This way all you have to do it come down to Charlie's Subaru and get behind the wheel for a test drive.
Forester 2.5i:
Bluetooth® with USB and iPod® control capability
Rearview Camera
Symmetrical All-Wheel Drive
SUBARU STARLINK™ Multimedia with 6.2" touchscreen
Forester 2.5i Premium:
STARLINK Safety and Security connected services
Power-tilt/sliding panoramic moonroof
10-way power adjustable driver's seat
Raised roof rails: black finish
Forester 2.5i Limited:
SUBARU STARLINK™ Multimedia with 7" touchscreen
Blind-Spot Detection / Rear Cross-Traffic Alert
X-Mode
Power rear gate
Forester 2.5i Touring:
Harman Kardon premium audio system
High Beam Assist
EyeSight Driver Assist Technology
Heated steering wheel
Forester 2.0XT Premium:
Turbocharged 2.0L BOXER Engine
Paddle shifters
Cloth upholstery with sport bolsters
Auto-on/off headlights
Forester 2.0XT Touring:
Reverse Automatic Braking
Active Torque Vectoring
Harman Kardon premium audio system
Keyless Access with Push-Button Start and PIN-code access
The Subaru Forester 2.5i Touring and 2.0XT Touring are the only models that come standard with EyeSight technology but it is available on the 2.5i Premium and 2.5i Limited trim levels. The Forester 2.5i Premium is also available with X-Mode and Hill Descent Control. Every Forester model has the ability to tow up to 1,500 lbs. when equipped with towing hitch. Bangor drivers also have the option of a 6-speed manual transmission on the 2.5i and 2.5i Premium trim levels for a fun and engaging driving experience. 
While you can both the 2018 and 2019 Outback SUVs in our inventory, we want to make sure you have the detail on both! Learn more about the 2019 Outback here!
2018 Subaru Outback Trim-Levels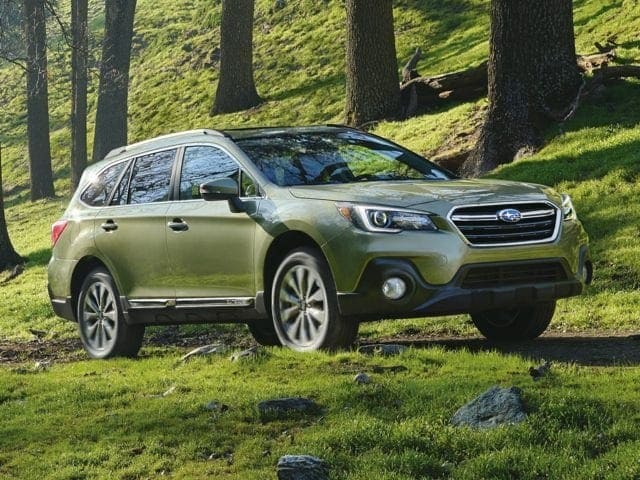 The Subaru Outback has been an American favorite for exploring the great outdoors for over twenty years. In fact, they're so popular that Subaru recently sold its two-millionth Subaru Outback. With six available trim-levels (2.5i, 2.5i Premium, 2.5i Limited, 2.5i Touring, 3.6R Limited, and 3.6R Touring) and plenty of options, there's a 2018 Subaru Outback that's a perfect fit for you and your family. No matter which 2018 Subaru Outback you choose, you can rest assured that you're getting all the durability, versatility, and safety that Subaru is famous for. Here are some of the standout features of different trim-levels:
Subaru Outback 2.5i
2.5-liter four-cylinder boxer engine with 175 horsepower and 174 pound-feet of torque
Symmetrical All-Wheel-Drive
Hill Descent Control
Hill Holding Assist
Backup Camera
Roof rack
SUBARU STARLINK™ Infotainment System with 6.2" touchscreen
Apple CarPlay™ and Android Auto®Subaru Outback 2.5i Premium
2.5-liter four-cylinder boxer engine with 175 horsepower and 174 pound-feet of torque
Symmetrical All-Wheel-Drive
Hill Descent Control
Available Subaru EyeSight Safety System with Adaptive Cruise Control, Forward Collision Alert with Automatic Braking, Lane Departure Warning, Automatic Headlights
Hill Holding Assist
Backup Camera
Roof rack
SUBARU STARLINK™ Infotainment System with 8" touchscreen
Apple CarPlay™ and Android Auto®
Heated Mirrors
Fog Lights
Optional Power Moonroof
Optional Power Liftgate
Subaru Outback 2.5i Limited
2.5-liter four-cylinder boxer engine with 175 horsepower and 174 pound-feet of torque
Available Subaru EyeSight Safety System with Adaptive Cruise Control, Forward Collision Alert with Automatic Braking, Lane Departure Warning, Automatic Headlights
Symmetrical All-Wheel-Drive
Hill Descent Control
Hill Holding Assist
Backup Camera
Keyless Entry/Ignition
Roof rack
12-Speaker Harmon Kardon Premium Audio System
SUBARU STARLINK™ Infotainment System with 8" touchscreen
Apple CarPlay™ and Android Auto®
Heated Mirrors
Fog Lights
Power Moonroof
Power Liftgate
Leather Heated Seats
Optional Xenon Headlights
Subaru Outback 3.6R Limited
3.6-liter six-cylinder engine with 256 horsepower and 247 pound-feet of torque
Available Subaru EyeSight Safety System with Adaptive Cruise Control, Forward Collision Alert with Automatic Braking, Lane Departure Warning, Automatic Headlights
Symmetrical All-Wheel-Drive
Hill Descent Control
Hill Holding Assist
Backup Camera
Keyless Entry/Ignition
Roof rack
12-Speaker Harmon Kardon Premium Audio System
SUBARU STARLINK™ Infotainment System with 8" touchscreen
Apple CarPlay™ and Android Auto®
Heated Mirrors
Fog Lights
Power Moonroof
Power Liftgate
Leather Heated Seats
Xenon Headlights
Subaru Outback 2.5i Touring
2.5-liter four-cylinder boxer engine with 175 horsepower and 174 pound-feet of torque
Subaru EyeSight Safety System with Adaptive Cruise Control, Forward Collision Alert with Automatic Braking, Lane Departure Warning, Automatic Headlights
Symmetrical All-Wheel-Drive
Wood Grain Cabin
Heated Leather-Wrapped Steering Wheel
Exclusive 18-inch Wheels
Hill Descent Control
Hill Holding Assist
Backup Camera
Keyless Entry/Ignition
Roof rack
12-Speaker Harmon Kardon Premium Audio System
SUBARU STARLINK™ Infotainment System with 8" touchscreen
Apple CarPlay™ and Android Auto®
Heated Mirrors
Fog Lights
Power Moonroof
Power Liftgate
Premium Leather Heated Seats
Xenon Headlights
Subaru Outback 3.6R Limited
3.6-liter six-cylinder engine with 256 horsepower and 247 pound-feet of torque
Subaru EyeSight Safety System with Adaptive Cruise Control, Forward Collision Alert with Automatic Braking, Lane Departure Warning, Automatic Headlights
Symmetrical All-Wheel-Drive
Wood Grain Cabin
Heated Leather-Wrapped Steering Wheel
Exclusive 18-inch Wheels
Hill Descent Control
Hill Holding Assist
Backup Camera
Keyless Entry/Ignition
Roof rack
12-Speaker Harmon Kardon Premium Audio System
SUBARU STARLINK™ Infotainment System with 8" touchscreen
Apple CarPlay™ and Android Auto®
Heated Mirrors
Fog Lights
Power Moonroof
Power Liftgate
Premium Leather Heated Seats
Xenon Headlight