The Shuman Family Maternity and Pediatrics Wing


Charlie and his family feel it is very important for people to have top-notch health care in the local community. Charlie's is happy to be a major contributor to the Hospital project, with a multi-year donation of $200,000. If you have a chance to visit the new facility make sure you visit the maternity ward which Charlie and his family have sponsored.
MaineGeneral
offers a range of pregnancy, childbirth and newborn care services, classes and amenities in our warm and inviting Maternity & Pediatrics center at the Alfond Center for Health in Augusta.
Maternity & Pediatrics Unit Demographics: 18 private rooms plus 10 labor rooms with whirlpool tubs

Estimated to deliver 1,200 babies each year

Level II NICU caring for babies 34 weeks gestation and greater (up to 6 weeks early)

24/7 in hospital coverage by board certified pediatricians. These physicians are available for emergencies, deliveries, and NICU as well as a resource to the Emergency Department.
United Way of Kennebec Valley
Charlie's Family of Dealerships has been involved with the United Way of Kennebec County for over 25 years.This is an organization that is not only near and dear to Charlie himself, but to every one of his employees. Charlie's employees donate money to this great cause through payroll deduction. As a matter of fact over the last 10 years Charlie's has had 100% of it's employees donate to the cause. Charlie and his family have chaired the annual fundraising for this cause in the past because they are so passionate about it. "I told myself 30 years ago when I opened the dealership that if I was successful in business I would give back to those who contributed to that success as much as possible," Charlie has said many times. Charlie's son and daughter have also served on many boards and fundraisers with United Way over the years. Charlie's wife, Nancy, takes a trip annually to purchase literally hundreds of coats, gloves, mittens, and hats and donated them to the United Way so that nobody in the local community needs to be cold. Charlie and his wife received the Norm Temple award for outstanding community service a few years ago. This honor goes to a community person/business who has truly gone above and beyond to help their community members in need. Charlie's is pleased to say that they donated $160,000 to the United Way of Kennebec County last year, and has donated approximately $1,400,000 over the last 10 years to this great cause who helps so many.
| | | |
| --- | --- | --- |
| Kick Off Breakfast |   Sign Up Drive at Charlie's Subaru |   Lunch at Charlie's Subaru |
American Lung Association
Charlie's has been giving to the Trek for the past 8 years.  The Charlie's Family of dealerships formed the "Charlie's Big Wheels" bike team to help raise money for this great cause.  Also the dealership itself will give over $15,000 to be the "finish line" and "starting line" major sponsor for the event.
The
American Lung Association
is leading the way in helping all Americans breathe easier. Thanks to our donors, volunteers, program and event participants, and staff, we are America's trusted source for lung health education, lung disease research, support, programs, services and advocacy.
Check out photos of our Charlie's Big Wheels team at the American Lung Association's Trek Across Maine:
Kennebec Valley Humane Society
Charlie and all of employees have a fond love of animals of all kinds.  The dealership contributes annually to the Kennebec Valley Humane Society, and has for the past 20 years.  Charlie and his family also host a "Kibbles and Bids" auction annually to help raise money for the shelter.  Charlie's also partners with Subaru of America every year and donates a portion of every sale during the "Share the Love" campaign to the humane society. It is a cause that is near and dear to their hearts.
Since 1927 the
Kennebec Valley Humane Society
has provided shelter, food, and medical services to local animals in need. Our mission is to care for, protect and place animals for adoption in lifelong homes; to prevent cruelty to animals by educating our communities in the proper and humane care of all animals. Our vision is to end pet overpopulation and to advance the humane treatment of all animals.
Check out our photos from the Kennebec Valley Humane Society's
"Paws in the Park and the Mutt Strut"
and "Kibbles 'N Bids Auction"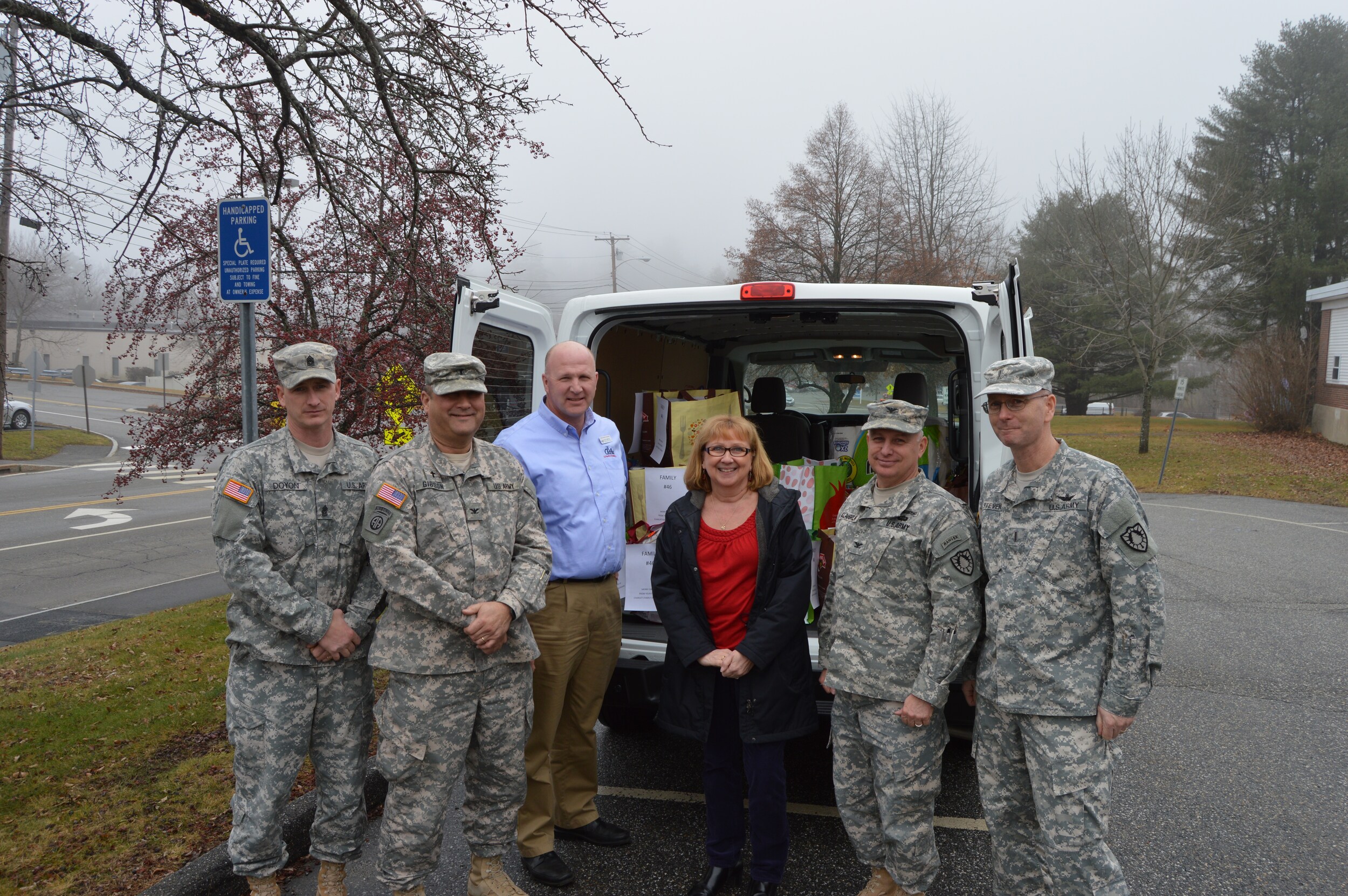 Christmas Presents for Needy Families
Every year around the Holidays the Charlie's Dealership Group does a company wide collection to make sure that needy Military families in the area have presents on Christmas morning. The dealership raises over $7,000 company wide for this great cause...and has done so for the past 5 years. No child should go without presents Christmas morning.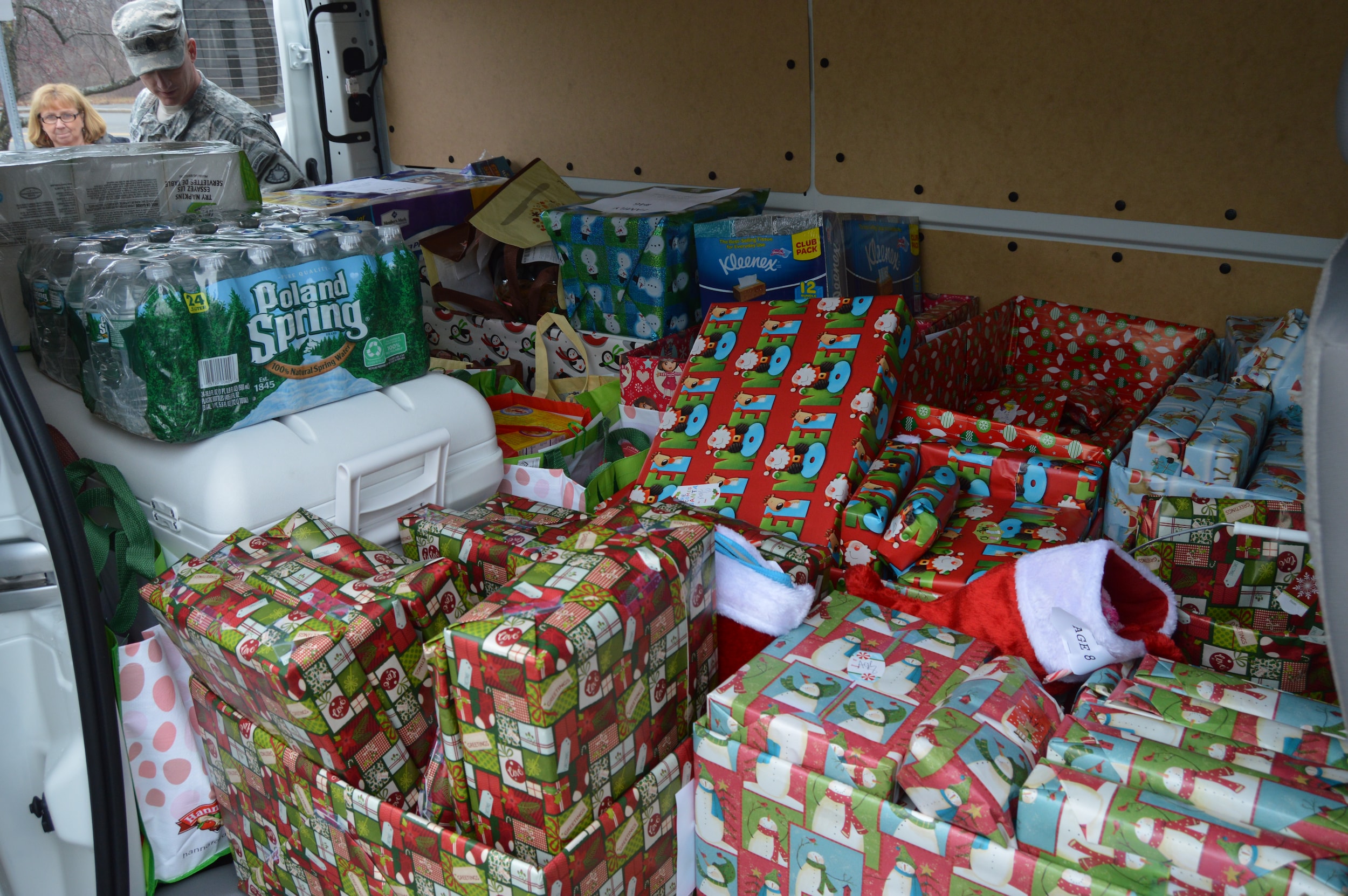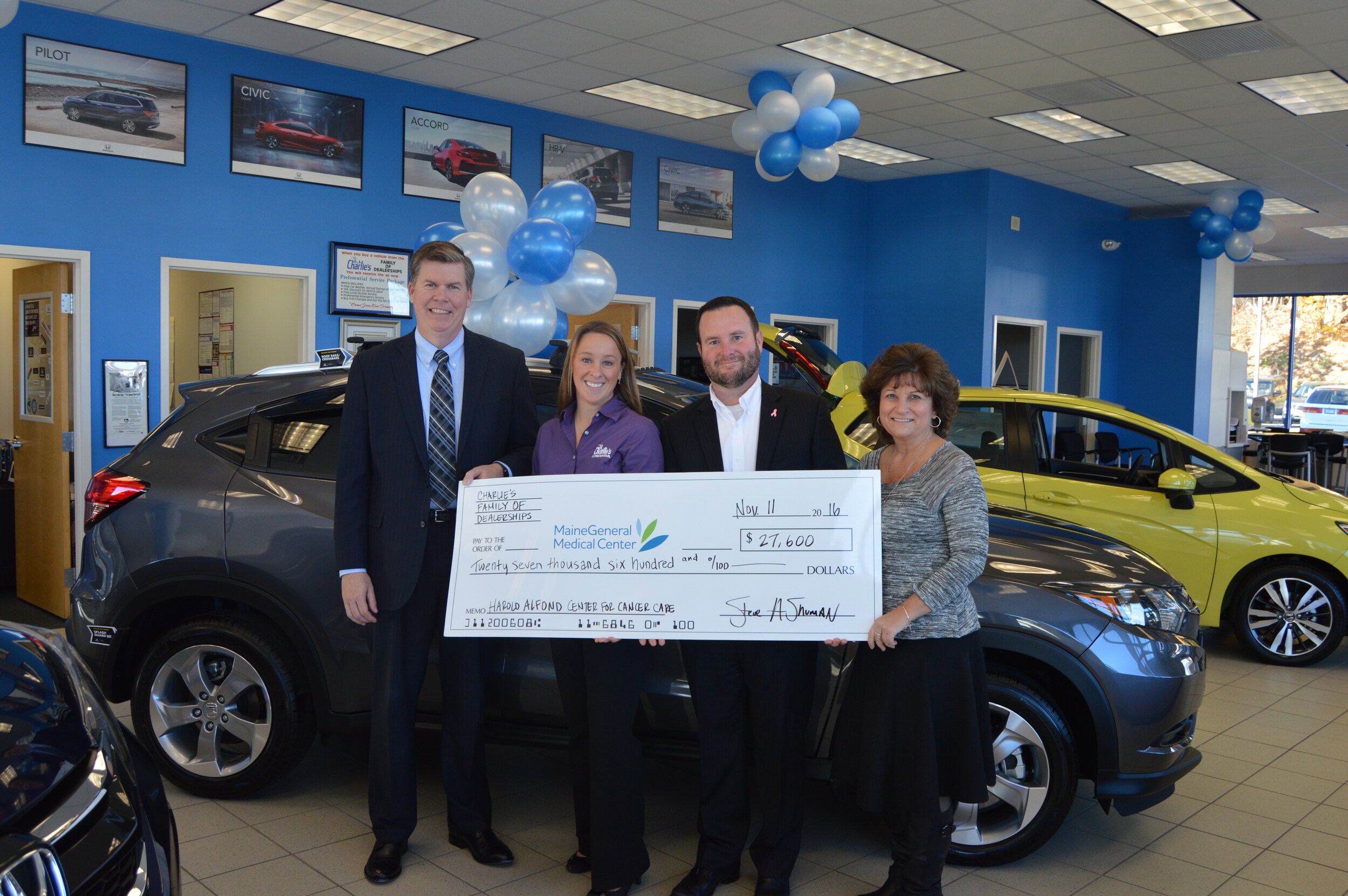 Breast Cancer Awareness Month
For the month of October Charlie's Subaru and the rest of the Charlie's Family of Dealerships donated $50 for every vehicle sold to the Alfond Center for Cancer Care in Augusta, ME. When the campaign was all said and done we were able to give a total of $27,500 to this great cause. This is an organization which Charlie himself holds near and dear to his heart as his wife, Nancy battled breast cancer this year and, looks to have made a full recovery. Charlie, his son Steve, who is the Vice President of the organization, and their daughter Elissa, the dealer principal at Charlie's Honda were so happy to be able to giver this donation to the organization that took such good care of their loving wife and mother.